Discover the Charm of Deep Ellum: A Guide to this Vibrant Neighborhood in Dallas
2/6/2023 (Permalink)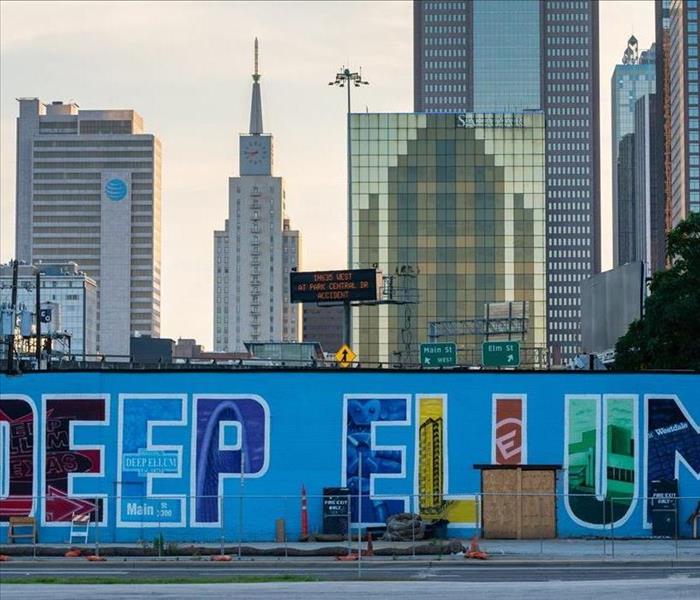 SERVPRO of East Dallas is proud to call Deep Ellum a second home! We are located within 5 minutes, this allows us to provide water damage restoration.
SERVPRO of East Dallas highlights Deep Ellum, Texas
Deep Ellum is one of Dallas' most vibrant neighborhoods, known for its eclectic mix of art, music, and food. Situated just east of downtown Dallas, this historic neighborhood is a hub of creativity and energy. In this blog post, we'll take a closer look at what makes Deep Ellum such a special place and why it's worth exploring.
Rich cultural history: Deep Ellum has a rich cultural history dating back to the late 1800s. It was once a hub of blues music and played a significant role in the city's African American community. Today, visitors can still experience the neighborhood's cultural heritage at landmarks like the Elm Street Music & Tattoo Festival and the Deep Ellum Arts Festival.

Eclectic food scene: Deep Ellum is a foodie's paradise, with a wide range of dining options to suit any palate. From classic Southern cuisine to contemporary fusion dishes, you'll find it all in Deep Ellum. Be sure to check out popular spots like Pecan Lodge, Braindead Brewing, and Stirr.

Art and music scene: Deep Ellum is well-known for its thriving art and music scene, with a variety of galleries, performance spaces, and music venues. From the famous Deep Ellum Art Co. to the historic Bomb Factory, there's no shortage of opportunities to experience the neighborhood's creative energy.

Shopping and entertainment: Deep Ellum is home to a variety of shopping and entertainment options, including boutique shops, vintage stores, and performance venues. Whether you're looking for unique gifts or a night out on the town, you'll find it all in Deep Ellum.

Access to the city: Despite its vibrant and unique character, Deep Ellum is just minutes away from the city center of Dallas, offering residents and visitors easy access to all that the city has to offer.
Deep Ellum is a neighborhood with a rich cultural history, a thriving food and art scene, and plenty of shopping and entertainment options. Whether you're a resident or a visitor, be sure to explore all that this vibrant neighborhood has to offer. And if you encounter any water or fire damage while in Deep Ellum, know that our water and fire damage restoration company is here to help. SERVPRO of East Dallas is located within 5 minutes of Deep Ellum so we are able to provide same day service as well as any commercial restoration services for our businesses in Deep Ellum.